Exiting Planning: The Key to a Successful Exit
Selling a business isn't always about the price.  It is not like selling a house where the most important factor is finding a buyer who is willing to make the highest offer.  In fact, in my 25- years of being a business broker, I'd say that in roughly 20% of the deals, the purchase price was not the most important part of the deal. In the end,  sellers are focused on achieving a combination of things, and maximizing the purchase price is only one of them. 
Let's examine some of the other most common goals and objectives sellers have.
Maintaining the seller's legacy.  For one client, this means getting the buyer to agree to keep the company's name (which was also the seller's name) the same after the acquisition and not roll the company into the buyer's parent company.
Protecting Employees.  For another client, they were the biggest employer in their small town, and the seller wanted to be sure that the buyer would not close down the plant, fire all the employees, and consolidate operations into their plant about 100 miles away.
Participating in the Upside. Many clients want to remain involved in some fashion (usually in a passive or silent role) with their business after the sale.  This often means accepting a lower price at closing but sharing in the company's future growth going forward.  This can be structured in several different ways, including a minority equity interest, a royalty on sales, or an earnout.
Timing.  Several of my former clients had very specific timing goals.  In one case, it was due to the owner's declining health; in another case, the owner's son and key employee became disabled.  In both cases, the owners wanted to sell as quickly as possible before the business suffered, and its value was diminished.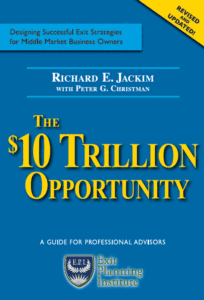 The best way to ensure that you achieve your goals when selling your business is to develop a comprehensive exit strategy before you start the sales process.  This assures that everyone on your team is on the same page and is rowing in the same direction.
Rich Jackim, the Managing Partner at Jackim Woods & Co, is the author of the best-selling book, "The $10 Trillion Opportunity: Designing Successful Exit Strategies for Middle Market Business Owners".  He has advised over 200 clients to create their exit plans and helped over 100 clients sell their businesses for a combined value of over $500 million. The book's success led Rich to create the Exit Planning Institute and created the Certified Exit Planning Advisor (CEPA) program.  He has trained over 300 lawyers, accountants, financial advisors, consultants, and business brokers to develop exit plans for their clients.
If you are thinking of selling your business in 2021 or beyond, contact Rich Jackim at 224-513-5142 or rjackim@jackimwoods.com for a FREE, confidential, no-obligation discussion about your options.